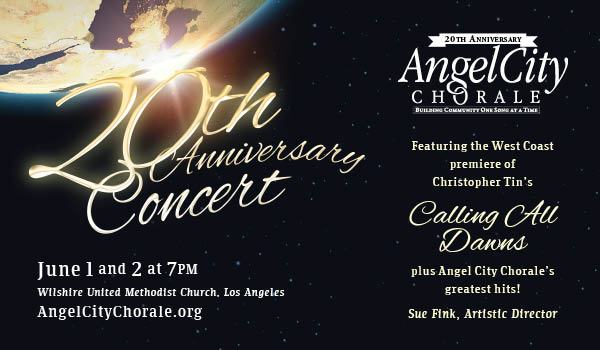 Angel City Chorale will commemorate its first two decades in song with special reunion concerts on Saturday, June 1 and Sunday, June 2, 2013 at 7pm. The Angel City Chorale 20th Anniversary Concerts will feature the West Coast premiere of Grammy Award-Winning Composer Christopher Tin's Calling All Dawns.
In addition to performing Tin's highly acclaimed three-movement piece, which celebrates the circle of life in 12 languages, Angel City Chorale will also perform "The Best of ACC," highlighting much-loved and crowd-favorite songs from the choir's 20-year history. The Greatest Hits portion of the program will include performances of Randy Newman's Louisiana and Toto's Africa with a choir-created thunderstorm.
General admission tickets are $30 in advance for adults, $27 for seniors, and $22 for children. Advance tickets are available via the Angel City Chorale website.
www.angelcitychorale.org
.
"In developing the program for our anniversary concerts, we wanted to commemorate Angel City Chorale's journey to date, as well as look to the road ahead," says ACC Founder and Artistic Director Sue Fink. "By performing our greatest hits from over the years, in conjunction with the West Coast premiere of Tin's sublime work, Calling All Dawns, we celebrate the past, present, and future of ACC – the circle of life – in song."
Composer Christopher Tin is working closely with ACC. He has expanded the choral parts of Calling All Dawns and added special orchestrations for the West Coast premiere. Tin has also been actively involved in preparing for the June concerts and will be rehearsing with ACC.
Hailed by critics as a masterpiece, the song cycle includes songs of joy, mystery, sorrow, hardship and triumph – reflecting the complexity of our mortality. Calling All Dawns contains 12 pieces in three uninterrupted movements – Day, Night and Dawn – corresponding to life, death and rebirth.
A tapestry of interconnected motifs, the melody of one song weaves into an instrumental interlude in another. The last song fades back into the first, reflecting the cyclical nature of life. Sung in twelve languages, from Swahili to Polish, French to Farsi, the lyrics are sourced from diverse texts including The Torah, Bhagavad Gita, The Rubaiyat of Omar Khayyam, Japanese haiku and Maori proverbs. Vocal traditions include African choral music, opera, medieval chant, Irish keening and more.
Tin's debut album, Calling All Dawns, won two Grammys at the 53rd Grammy Awards for Best Classical Crossover Album and Best Instrumental Arrangement Accompanying Vocalists for the song "Baba Yetu," which made history as the first video game theme to win a Grammy.
Performing with the choir during the first half of the concert, for Calling All Dawns, will be an expanded orchestral ensemble with strings, French horn, flute, oboe, harp, piano, and five percussionists. Authentic sounds from the countries whose texts inspired Calling All Dawns will also be incorporated into the performance.
Adding a special touch to the weekend's concerts, many ACC alumni will participate in two songs with the choir. A historical slide show, illustrating many of ACC's milestones over the past 20 years, will be projected during two of the songs.
The audience is invited to join the performers for a dessert reception after each performance.
Wilshire United Methodist Church
4350 Wilshire Blvd., Los Angeles, California 90010